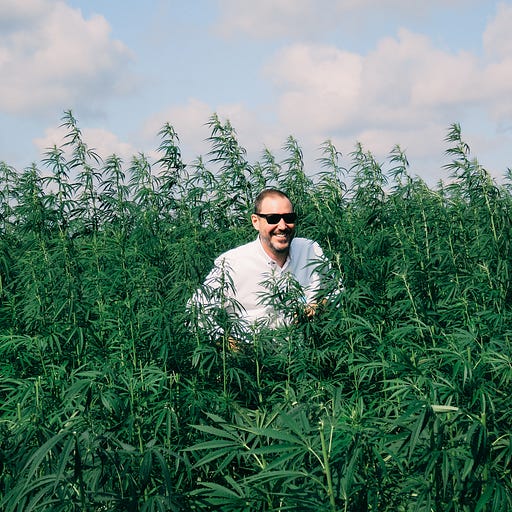 May 25 • 1HR 6M
Global Cannabis Thought Leader Robert Hoban answers my questions on Ganja in Thailand
Rough cut you need to hear now! In a time of new uncertainty & worry - international speaker, policy advisor and legal expert Bob Hoban puts his analytical mind to work on all the major Thai issues.
Making sense of the Thai Cannabis revolution
Please excuse the poor sound quality. This info can't wait. The idea that cannabis will be returned to the narcotics list and that this was important enough to announce immediately following the elections has many in Thai cannabis deeply vexed.
In my supercharged interview with one of the most sought-after cannabis experts in the world, Robert Hoban, we delve into the fundamentals of cannabis in Thailand.
Bob takes the time to think about how the principles of global cannabis and domestic markets apply to Thailand. He talks candidly about imports and exports in a new industry, and the importance of knowing whether to grow flower or hemp — and strategies to enfranchise farmers.
Bob's clear ideas and sharp opinions unfold an optimistic vision of the future of cannabis in Thailand and cannabis globally. He thinks that Thailand is in a unique position to integrate medical into over-the-counter cannabis in a meaningful way. Listen to find out why.
As a cannabis industry expert, Bob was recognized as one of the Top 42.0 influential cannabis industry pioneers by Forbes Magazine and has been featured in consecutive years as one of the most influential voices in the Latin American cannabis sector by The Business Year (2021-2022). In the past dozen+ years, Bob has received numerous awards for his leadership, policy, and market development efforts across the world.    
Bob is a founder of the leading international cannabis consultancy, Gateway Proven Strategies.    
From 2010-2016, Bob served as one of the Nation's first cannabis policy instructors at the University of Denver, where he regularly lectured regarding cannabis policy topics, and led multiple international travel courses concerning the implementation of international cannabis regulation. Given this academic background, Bob has been engaged to develop legislation and/or regulation for over thirty (30) countries around the world, and has participated at the United Nations concerning cannabis policy reform in various forums over the past dozen+ years.     
Bob was recognized in 2021 by Titan 100 recipient as one of Colorado's Top 100 CEO's & C-level executives. He has served as a C-Suite member on numerous occasions (CEO, CSO) for national and international cannabis companies, and presently sits on the Board of Directors for Glass House Brands, and as a Board Member for Athletes for Care, Regennabis, Chrystal Capital, Green Flower Media, the Global Cannabis Network Collective, and Akers Biosciences. In 2022, Bob completed a Fellowship for a Certificate in Cannabis Journalism at the University of Vermont.